Deacon Tom O'Toole
Deacon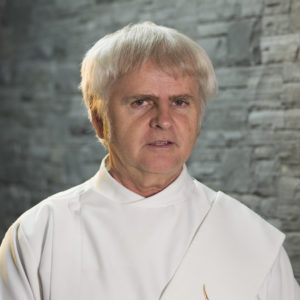 E-mail: deacon@st-peters.ca
Phone: 1-403-286-5110

Deacon Thomas O'Toole received Baptism and First Holy Eucharist at Église de Notre-Dame-de-Lourdes, in New Brunswick, Canada. The eighth of eleven children, he was born into a working class Irish family. On August 2, 1986 Deacon Tom, as he is fondly called, exchanged the Sacrament of Marriage with Dianne Riemer before God's people in St Mary's Catholic Church in Ladysmith, British Columbia. Their family includes three children: Cecily, Carrie and Arianna. On the feast of St Epherem June 9, 2008, Deacon Tom was called and ordained by Bishop Fredrick Henry to the Sacred Order of Deacon. Later that year he was professed into the Third Order of St Francis. Deacon Tom was educated at St Francis Xavier University, Technical University of Nova Scotia, British Columbia Institute of Technology, and University of Calgary. His spare time is joyfully occupied with reading, hiking, music, and sports.