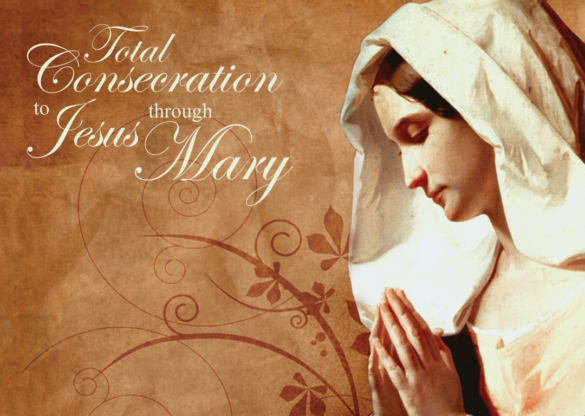 This 33 day devotion started on November 5 and ends on December 8, the Feast of the Immaculate Conception.
The object of this consecration is to cast off the spirit of the world in order to acquire fully the spirit of Jesus Christ through the Blessed Virgin. It is a prayerful and focused method of drawing closer to Jesus to increase your spirituality and ability to truly serve Our Lord.
We have two events planned to honor Our Lady:
Friday, December 7 at 7:30pm – We will be having a sung evening prayer with some beautiful chant from the Benedictine monks of Mission, B.C. It will involve the singing of the psalms for the Solemnity of the Immaculate Conception (Evening Prayer I) in the presence of the Blessed Sacrament. This will be led by Deacon Troy. This evening, you will also have the opportunity to consecrate yourself to Jesus through our Blessed Mother.
If you would like to practice the singing of the psalms and other prayers, Deacon Troy has prepared these words and audio files for you:
Evening Prayer I Immaculate Conception – Words
Psalm 1

Psalm 2

Psalm 3

Response to the Reading

Psalm 4 – The Magnificat

Intercessions

Our Father

Conclusion

Saturday, December 8 at 2pm – On this Feast Day of the Immaculate Conception we will begin with exposition of the Blessed Sacrament, followed by a scriptural Rosary, Adoration and Benediction. Leading up to this feast, we invite you to begin this Novena on Friday, November 30.
You can find the Novena here Immaculate Conception Novena