Today at St. Peter's
Tuesday, July 28
8:30am – Fr. Jonathan
The Church and Parish Office are open from 9:15am – Noon.
Tomorrow at St. Peter's
Wednesday, July 29
8:30am – Fr. Jonathan
The Church and Parish Office are open from 9:15am – Noon.
Please email our Priests directly to book an appointment
(Reconciliation, Blessing of Holy Water, etc.)
Fr. Jonathan
Fr. Arjay
Feature Video
Office Hours
Mon • Closed
Tue – Thurs • 9:15am – 1pm
Fri • 9:15am – Noon
Happening at St. Peter's (Click for Details)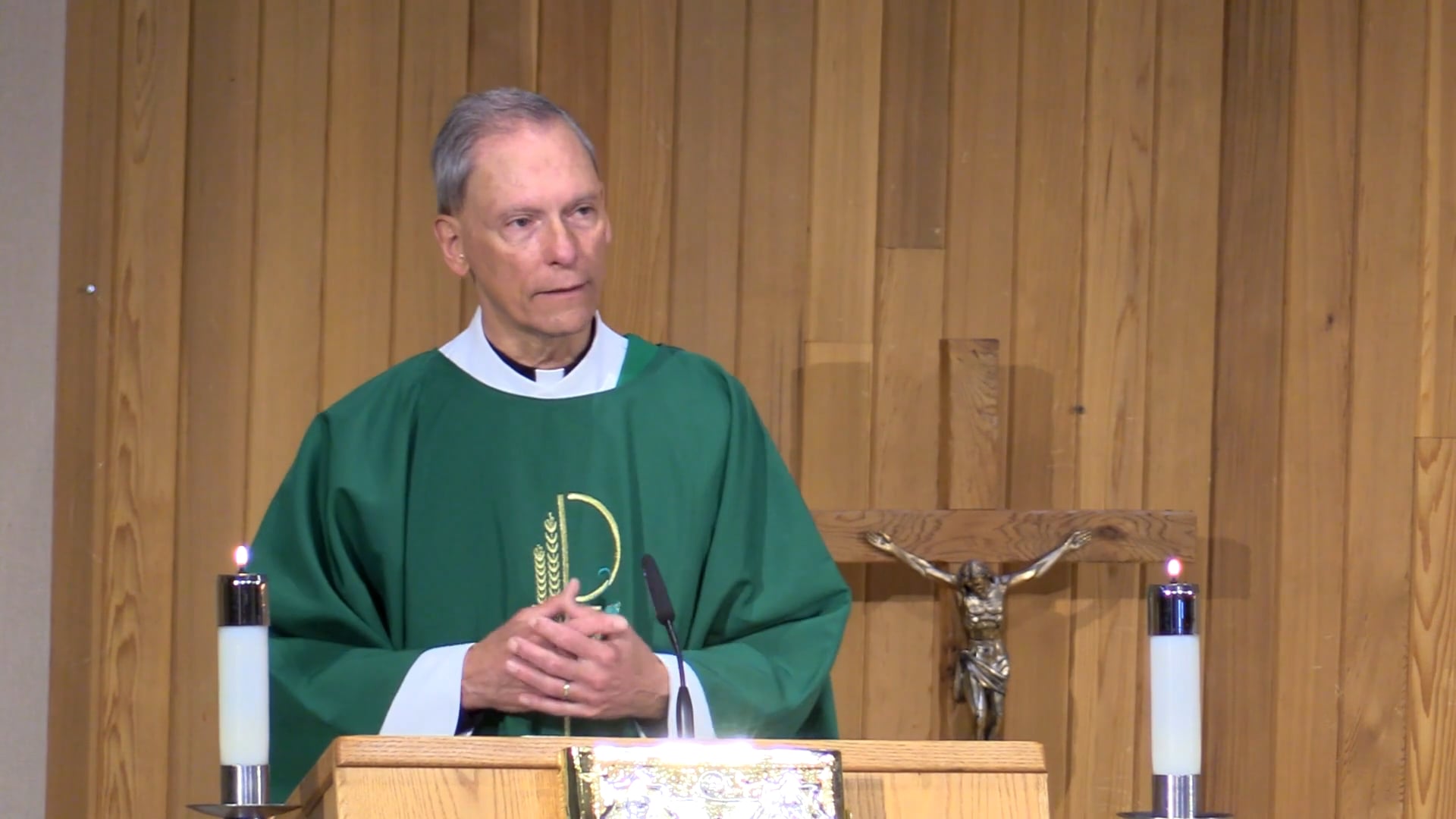 A Deacon's Perspective
Summer time in the church – that's when we take a break from the activities of the rest of the year, and do things we can only do when the weather is great. But we are already three months into a forced break from most of the things we were doing before we became afraid of catching the virus from each other. It hurts that I can't even visit my 90 year old mother.
In the Church, summer is part of the liturgical season of Ordinary Time. Every year we try to emphasize that this is not the boring time between exciting events. It is the ordinary time of God's grace being poured out for us in the ministry, life and death of Jesus Christ. He is made present to us this day: in his Word, in his sacraments, and in his promise that he is with us and is calling us away from sin to a holy life.
Recently, I have assisted at beautiful Catholic weddings with small numbers physically present and many more virtually so. The words of the vows were profound: "I take you to be my wife … my husband. I promise to be faithful to you in good times and in bad, in sickness and in health, to love you and to honour you all the days of my life."
Two young people were confirmed this Sunday. All of us renewed with them our baptismal promises: "I renounce Satan, and all his works, and all his empty promises. I believe in God ….etc." following which Fr. Jonathan declared: "Be sealed with the gift of the Holy Spirit."
At recent funerals, I prayed with mourners: "Into your hands, Father of mercies, we commend our beloved in the sure and certain hope that, together with all who have died in Christ, they will rise with him in the last days. "
Paul's first letter to the Church at Corinth contains the words of the institution of the Eucharist, thirty years after Jesus spoke them at the Last Supper before his death for our sins: "This bread is my body, broken for you … This chalice is the new covenant in my blood … poured out for you. As often as you eat this bread and drink this chalice, you proclaim the Lord's death until he comes." (1 Cor 11:23-26) Even then, the Corinthian community needed to be reminded of the magnificence of the gift they were receiving.
God's own faithfulness proclaimed in good times and in bad … the power of the Holy Spirit imprinted on the heart to live a courageous life of faith, and protect it from Satan … The promise of resurrection to eternal life with Christ … His body broken and his blood poured out so we might live in the freedom of the sons and daughters of God. All these are signs that our God is the God of extra ordinary life.
Sometimes you can't go to Sunday mass because the available spots are filled. Sometimes it feels like reverence has been lost because of the awkward removing of the mask to receive communion. You may be tempted to think of this summer negatively. At these times, please remember that, whatever is going on in the world outside, those who desire life in Christ are offered extra ordinary lives of grace.
In the grace of Christ,
Deacon Stephen Robinson