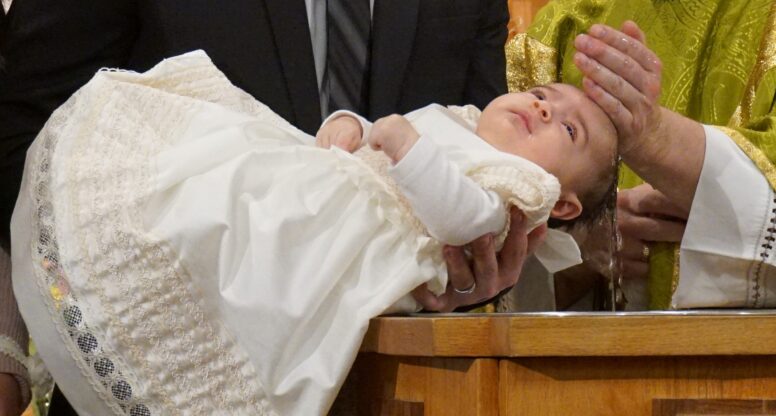 Congratulations! There's a Baptism coming up!
We at St. Peter's are very excited to assist you with this very important moment in your child's spiritual life – please contact us to register, and please feel free to ask any questions that come up.
Infant Baptisms – Under age 7
School Age Baptisms are grouped as follows: Grades 2-5; Grades 6-9; High School
Adult Baptisms – Age 18 and over – Adults participate in our RCIA process
Infant Baptisms are arranged through the office. Please email baptism@st-peters.ca
The Baptism Registration form is available HERE.
Children under the age of seven are considered "infants" under Church law. Scroll down for information about Baptism for older children and adults at St. Peter's.
A Baptism Preparation Seminar is required for parents who have not completed it within the past three years, up to the third child.
Baptism Preparation Seminars are suspended during COVID-19 – please contact Fr. Jonathan for information on how you can prepare for your child's upcoming Baptism.
There is no fee for Baptism.
Required Paperwork:
Your child's birth certificate
Records of Catholic Baptism for at least one of the parents
Records of Confirmation in the Catholic Church for each of the God parents (sponsors)
If your family is not yet registered with the parish, we ask you to complete this Parish Registration form, which we will e-mail to you upon request.
If you are coming to us from another parish, we require a letter of permission from the Pastor of the parish where you reside.
During the COVID-19 crisis, only one family at a time may present children for Baptism. A limited number of guests are permitted, so that there are no more than 50 people present at the Baptism. Physical distancing must be observed between people who don't ordinarily live together. 
School-Age Baptisms
Please watch this space for our 2021 dates.
Goals: At the end of this process, your child will be prepared to receive the Sacrament of Baptism with a full understanding of what they are undertaking, and they will be prepared to live as a young Catholic Christians.  Journals and all required materials will be supplied. There is no cost for this program.
Class Time: All classes will be held via Zoom.
Required Paperwork
To be registered for Baptism for School Age Children, we will need:
A copy of at least one parent's Baptism Record
A copy of the child's Birth Certificate
The full name of your child's Sponsor (also called the godparent)
A copy of the Sponsor's Catholic Confirmation Record
The completed Registration Form (will be e-mailed to you upon request)
Please ensure that all of this information is in the Office by no later than one week prior to the start of your classes, to allow us time to prepare the right number of books and other resources.

A program for High School Students will be arranged as needed. If you are a High School student who is interested in becoming Catholic, please contact our office to set up an appointment to discuss the schedule.

 Adult Baptism

If you are an adult (18+) seeking Sacraments of Initiation, including Baptism, First Holy Communion and/or Confirmation, please refer to our RCIA process