"Now when the Apostles at Jerusalem heard that Samaria had accepted the word of God, they sent Peter and John to them.  The two went down and prayed for them that they might receive the Holy Spirit (for as of yet the Spirit had not come upon any of them; they had only been baptized in the name of the Lord Jesus).  Then Peter and John laid their hands on them and they received the Holy Spirit."  Acts 8:14-17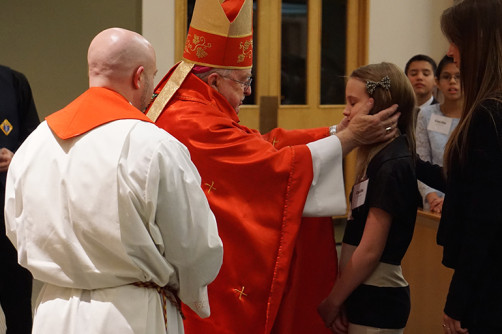 Our Diocese makes the following recommendations:
First Reconciliation and First Eucharist: Grade 2
Confirmation: Grade 6
If you are an adult seeking the Sacrament of Confirmation for yourself, please refer to our RCIA process.

ALL PREPARATION SESSIONS WILL BE HELD AT ST. PETER'S PARISH
The Catholic schools provide Religious and Family Life Education for your child and the parishes provide the Sacramental Preparation Program for your child.
There will be a Parent and Candidate Session to further explain the Sacramental Preparation Program and how you can continue to support your child's faith development.
Additionally, there are sessions to prepare for Confirmation and a retreat. The sessions run for 2 hours and the retreat for 4 hours. Please click HERE for the complete schedule.
All sessions must be attended.

PLEASE CLICK HERE TO REGISTER YOUR CHILD
WE HAVE EXTENDED THE DEADLINE FOR REGISTRATIONS TO MONDAY SEPTEMBER 30
Please email sacraments@st-peters.ca if you have any questions.
If you have had your 18th birthday, and have not yet received your Sacrament of Confirmation, please consider our Adult Confirmation Program.