FIRST RECONCILIATION & EUCHARIST – Grade 2 and Up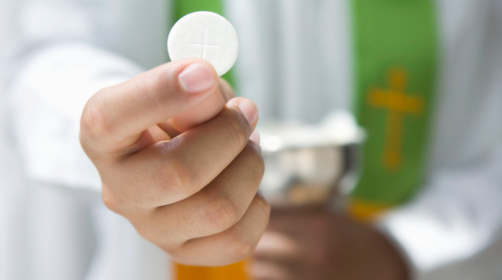 Children currently in Grade 2 and up are potential candidates for the reception of the Sacraments of First Reconciliation and First Eucharist.  If your child is baptized, we can assist you and your family in preparing him/her to receive the gifts of these Sacraments joyfully during this school year.
Due to the ever-evolving situation regarding the Covid-19 Pandemic the preparation will take place a little differently this year.  We do not yet have dates for various sessions, but as soon as they are available, we will provide you with that information.
Please see below the general outline of how the process will work this year.
Four in-person Parent Information  Coaching Sessions to explain the Sacrament Preparation Program and how you can support your child's faith development.  The First Reconciliation parent coaching sessions will take place on 2 Saturdays in November and 2 Saturdays in December.  The First Eucharist parent coaching session dates are yet to be determined but will take place in the spring.
The children's preparation will be home based and will be directed by the parents.  You will be provided with the workbooks to facilitate the at home learning.  
There will be an in-person retreat for the children on a Saturday prior to the sacrament celebration.  The First Reconciliation retreat will take place in January and the First Eucharist retreat date is still to be determined.
Please go here to register your child for First Reconciliation/First Eucharist.
If your child isn't baptized yet and you would like to have them baptized, we invite you to contact us at baptism@st-peters.ca at your earliest convenience so we can arrange for preparation for that sacrament as soon as it is possible.
As soon as we have more information regarding dates we will post that information.