"While they were eating, Jesus took a loaf of bread, and after blessing it He broke it, gave it to the disciples and said "Take, eat; this is my body". Then He took the cup and after giving thanks He gave it to them saying, "Drink from it, all of you; for this is my blood of the covenant, which is poured out for many for the forgiveness of sins."  Matthew 26: 26-28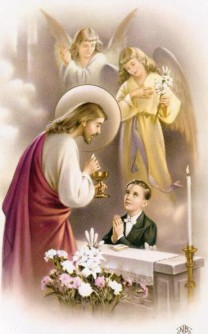 Our Diocese makes the following recommendations:
First Reconciliation and First Eucharist: Grade 2
Confirmation: Grade 6
ALL PREPARATION SESSIONS WILL BE HELD AT ST. PETER'S PARISH
ALL CHILDREN RECEIVING THE SACRAMENT OF FIRST EUCHARIST MUST FIRST RECEIVE THE SACRAMENT OF RECONCILIATION
The Catholic schools provide Religious and Family Life Education for your child and the parishes provide the Sacramental Preparation Program for your child.
There will be a Parent Information Session to further explain the Sacramental Preparation Program and how you can continue to support your child's faith development. Click HERE for the complete schedule.
All sessions must be attended.
First Reconciliation & First Eucharist


PLEASE CLICK HERE TO REGISTER YOUR CHILD
WE HAVE EXTENDED THE DEADLINE FOR REGISTRATIONS TO MONDAY SEPTEMBER 30

Please email sacraments@st-peters.ca if you have any questions.