Today at St. Peter's
Tuesday, March 28

8:30am Mass – Fr. Jerome
7pm Mass – Fr. Jonathan
8am – Rosary
9:10am – Prayer Group
6:15pm – Reconciliation
7pm – Lenten Retreat Series – 4th Talk – Fr. Jerome @ St. Bernard's
7:30pm – KofC Executive Mtg
7:30pm – Altar Audio Choir Practice
Tomorrow at St. Peter's
Wednesday, March 29

8:30am Mass – Fr. Jerome
7pm Mass – Fr. Jonathan
8am – Rosary
9am – Pray & Play
6:15pm – Reconciliation
7pm – Foundational Bearings of Theology – Dbl Class
7:30pm – Reconciliation
7:30pm – Early Light Ensemble Choir Practice
7:30pm – Small Group Community
7:30pm Adult Confirmation Class
Feature Video
Office Hours
Mon – Thurs 9am – 4:30pm
Closed from Noon – 1pm
Fri 9am – Noon
New: St. Peter's Mobile App
Upcoming Events (Click for Details)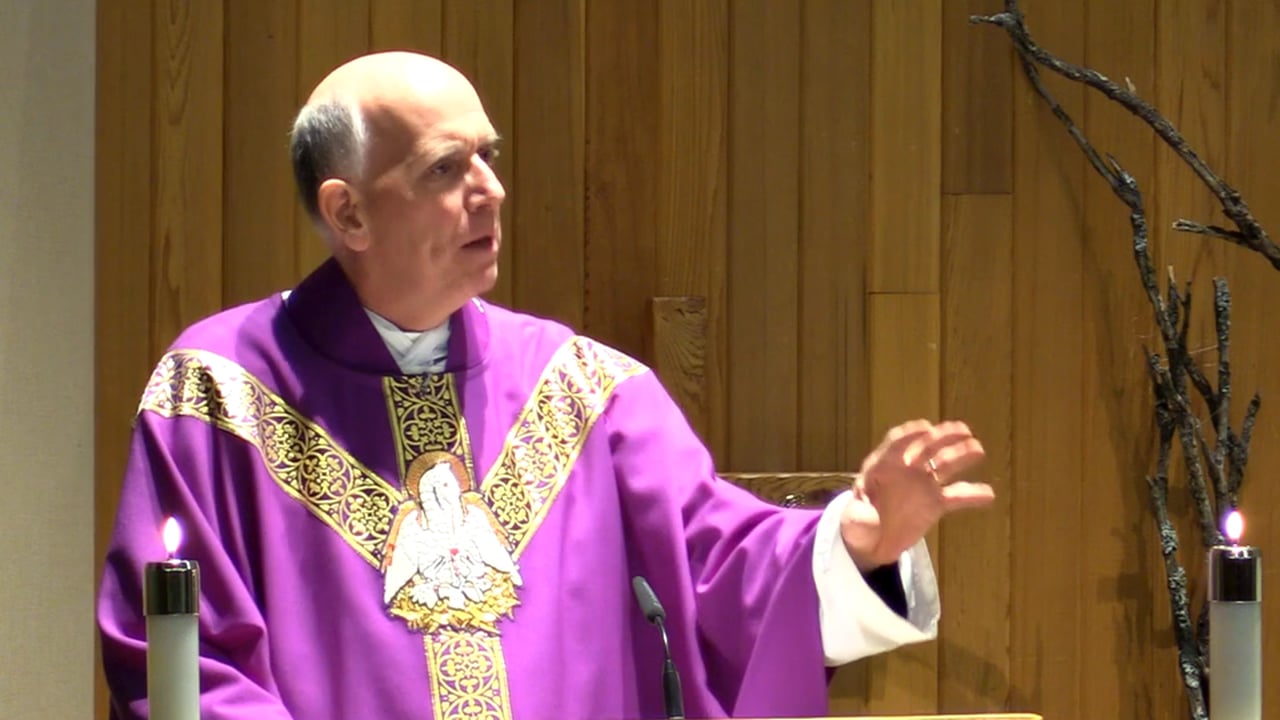 Parochial Vicar's Perspective
St Paul writes in Ephesians 4 about the importance of maturity in Christ. These are his words in verses 14 and 15.
14 We may no longer be children, tossed back and forth and carried about with every wind of doctrine, by the cunning of men, by their craftiness in deceitful wiles. 15 Rather, speaking the truth in love, we are to grow up in every way into him who is the head, into Christ.
Just as children grow through adolescence and then into adult hood, so too, says St. Paul we are to do the same spiritually. He compares spiritual immaturity with those who are always swayed by false teachings that entice people away from Catholic Truth and Doctrine, what he calls "every wind of doctrine". Such teaching is often subtle and crafty and can appear very enticing, like the lure the serpent extended to Eve in the Garden of Eden.
What we are to experience in the Church is truth spoken in love resulting in brothers and sisters in Christ growing to be mature in their faith.
Here at St. Peter's there is a course that will help you mature in your faith. It will run on Wednesday evenings, starting this Wednesday March 29th and will conclude on May 31st. Catholic Adults Preparing for Confirmation is for those Catholics who were baptized but have not been confirmed. If you are someone who did not complete your Rites of Initiation into the Catholic Church, I would like to extend an invitation to you to register for this course.
By the end of the process you will be fully initiated in the Catholic Church, understand the essential precepts and doctrines of the Church and be well prepared to undertake the unique mission God has prepared for you.
The sessions will cover the following subjects: 1: Called to Faith; 2: Called to be Holy; 3: The Sacraments; 4: The Gifts and Fruit of the Holy Spirit; 5: How we believe; 6: The Return of the Prodigal; 7: Called to Mercy; 8:The Virtuous Life; 9: The Mass and Church Tour. A retreat and reconciliation will be held on June 3rd from 1 – 4 PM.
The Confirmation will be at the 11:30 AM Mass on June 4th with Father Jerome.
These ten sessions will provide a way for you to interact with the truth spoken in love so that you can grow up into Him who is the Head of the Church, our Lord Jesus Christ.
For more information and to register please contact Judith McRae at 403-286-5110. Also check out FFC@st-peters.ca.
Blessings,
Father Jonathan