Today at St. Peter's
Thursday, October 19

8:30am Mass – Fr. Jonathan
8am – Rosary
7:30pm – Laudate Choir Practice
7:30pm – CWL Harvest Dinner Mtg
Tomorrow at St. Peter's
Friday, October 20

8:30am Mass – Fr. Jonathan
8am – Rosary
9am-Noon – Adoration
11:50am – Benediction
9:15am – Mother's Support Group
7pm – Young Women of Grace
Happening at St. Peter's (Click for Details)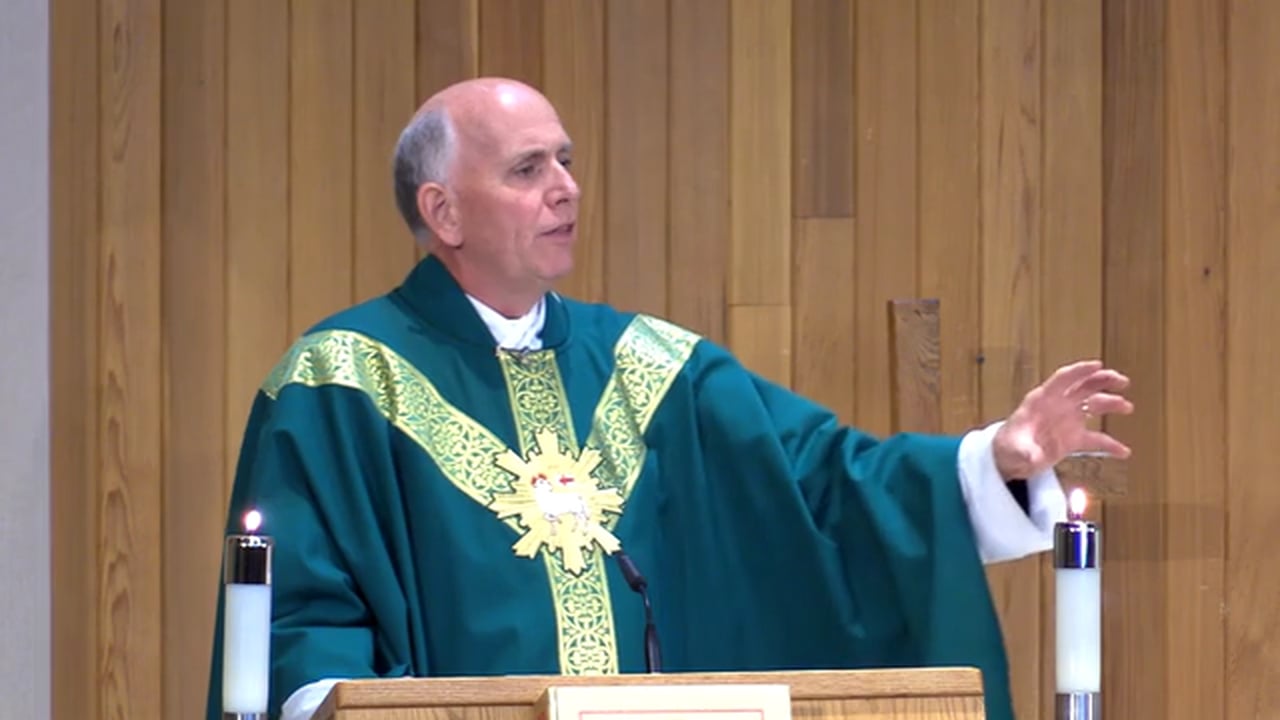 Parochial Vicar's Perspective
One of St. Paul's most poetical passages is in Ephesians chapter 3. There he prays:
"For this reason I bow my knees before the Father, from whom every family in heaven and on earth is named, that according to the riches of his glory he may grant you to be strengthened with might through his Spirit in the inner man, and that Christ may dwell in your hearts through faith; that you, being rooted and grounded in love, may have power to comprehend with all the saints what is the breadth and length and height and depth, and to know the love of Christ which surpasses knowledge, that you may be filled with all the fulness of God". (Eph 3:14–19).
This expression of our faith is a special gift of Catholic Christianity because of our celebration of the Communion of Saints. We mark through our liturgical calendar those men and women who in their lives discovered the riches that belong to us in Christ Jesus. As we come to know their stories we come to a deeper comprehension of our faith.
I would like to invite you to join me in a study where we focus on six people who articulated the fulness of our life in Christ. Bishop Robert Barron's, Catholicism, The Pivotal Players will allow you to discover the places where St. Thomas Aquinas lived, learned, and wrote. Visit the countryside where St. Francis gathered a group of friars and revived the Church. See the places where St. Catherine of Siena ministered and prayed. Trek through England to where Bl. John Henry Newman and G.K. Chesterton left their mark and sparked an English Catholic revival. And through unprecedented HD footage, marvel at the extraordinary art of Michelangelo, from his David statue in Florence, to the Pietà at St. Peter's, to the Sistine Chapel.
Starting on Thursday, November 9th and then on the second Thursdays of December through May we will meet from 9:30 – 11 AM in Conference Rooms A and B. We will watch the video and then discuss its content. If you would like to join this study, please email our secretary Mikaelah Paul at secretary@st-peters.ca. You can also register by phone: 403-286-5110.
Blessings,
Fr. Jonathan