Today at St. Peter's
Thursday, April 27

8:30am Mass – Fr. Jonathan
Evening Mass CANCELLED
8am – Rosary
7pm – K of C MNO Mtg
7:30pm – Laudate Choir Practice
Tomorrow at St. Peter's
Friday, April 28

8:30am Mass – Fr. Jonathan
8am – Rosary
9am-9pm – Adoration
9am – Mother's Support Group
8:50pm – Benediction
Feature Video
Office Hours
Mon – Thurs 9am – 4:30pm
Closed from Noon – 1pm
Fri 9am – Noon
New: St. Peter's Mobile App
Upcoming Events (Click for Details)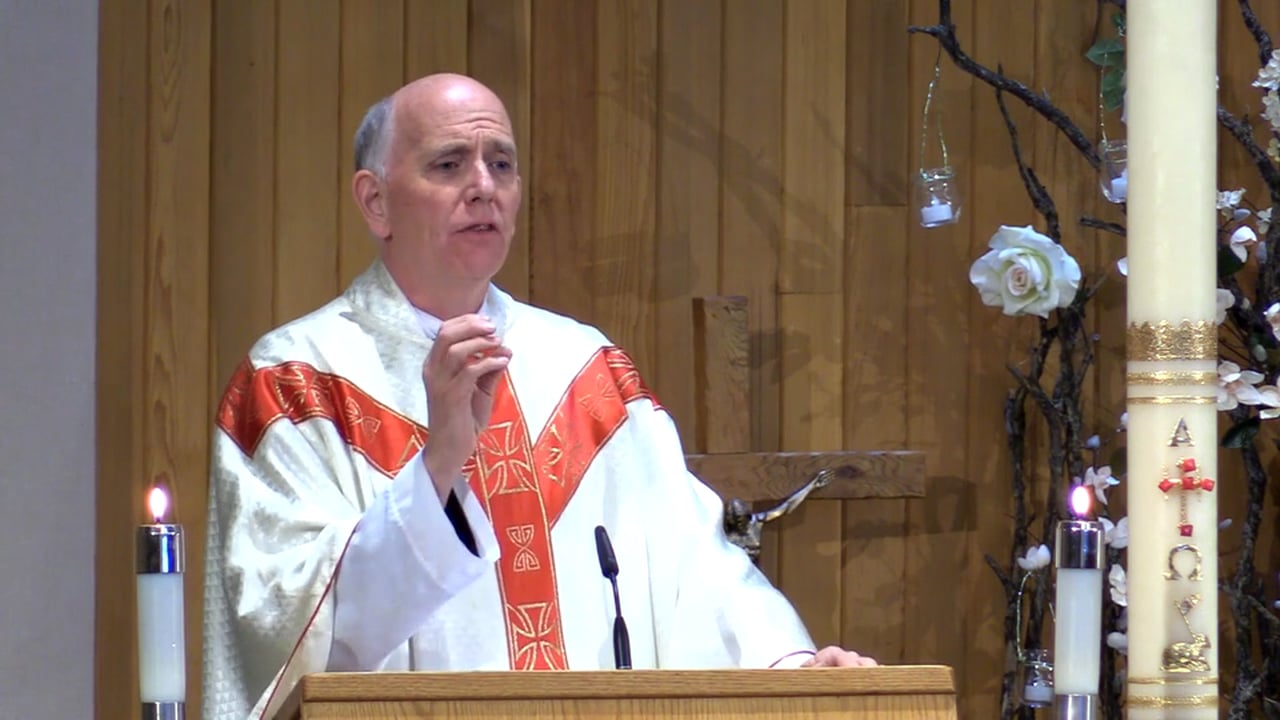 Parochial Vicar's Perspective
This is Divine Mercy Sunday. We celebrate the victory of mercy as the Lord Jesus shows to St. Thomas the wounds in his hands, feet and side. The wounds of Jesus show us to what length the Lord goes to extend his mercy towards us.
What is mercy? We better understand the English word by looking at the word in Latin. Misericordia is the Latin for "mercy", derived from misericors, "merciful", which is in turn derived from misereri, "to pity", and cor, "heart". To have mercy is to have pity for another person from the heart.1
A parent knows how this is. When a child is suffering from a severe cold with a sore throat, runny nose, severe congestion, and assorted aches and pains, and all he can do is throw his arms around your neck and cry—what does this evoke in you as a parent? It awakens your pity, and you reach out and try to relieve the child's distress in any way you possibly can. Why? Because his misery has called forth your mercy.
This is an everyday expression of mercy that comforts the child while calling forth from the mom or dad an expression of sacrificial love. Mercy always has this sacrificial dimension to it, as the wounds of Jesus clearly express.
In 2001 St John Paul II declared this Divine Mercy Sunday. Inspired by the revelations St Faustina had in the 1930s of the Merciful Heart of the Saviour, St John Paul II wrote:
There is nothing that man needs more than Divine Mercy—that love which is benevolent, which is compassionate, which raises man above his weakness to the infinite heights of the holiness of God.
Anyone can look at this image of the merciful Jesus, His Heart radiating grace, and hear in the depths of his own soul what Blessed Faustina heard: "Fear nothing. I am with you always". And if this person responds with a sincere heart: "Jesus, I trust in you," he will find comfort in all his anxieties and fears…. 2
May this Divine Mercy Sunday be for you an opportunity to discover more deeply the Misericordia of Jesus Christ. At the Weekend Liturgy, we will be celebrating the Mercy of Jesus. This will find special focus in our afternoon devotion on April 23rd from 2:30 – 4:00 PM.
I invite you to join us.
In His Mercy,
Fr Jonathan
1 https://en.wikipedia.org/wiki/Misericordia
2 https://onedrive.live.com/?cid=A8098293C915F24D&id=A8098293C915F24D%219965&parId=A8098293C915F24D%217925&o=OneUp