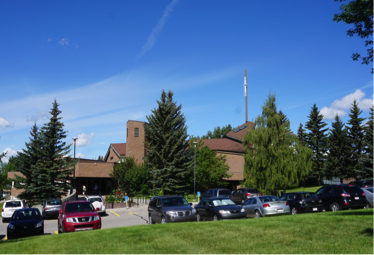 The Rock of our Faith Campaign is a bold and exciting initiative in which all members of the parish can play an important role in the future of our church —assisting in building up the Kingdom of God on an earthly and spiritual level.
"To put it simply, we don't have the space requirements to meet the needs of the spiritual demands we are facing at this time. By providing larger spaces for gathering, more options for meeting rooms, people will have the option to take in what the church has to offer," says Fr. Jerome.
Bishop Henry describes St. Peter's as bursting at the seams. "We've got to do something. This is the most obvious answer," says Bishop of the expansion plans.
The Rock of our Faith Campaign is reaching out to the entire St. Peter's community, inviting every individual and family to share in the opportunity to contribute to the future of our church – to make a special gift in addition to our regular giving commitments.
This five year undertaking is not an end unto itself. Rather, it is a thoughtful and prudent way to secure the financial resources necessary to reach our desired goals to realize our long-term vision for the future of St. Peter's.
PHASE 1
$2,500,000
Renovation of the old Rectory to create much needed enhanced meeting and administration space – including a designated music room. The contract for this Phase has been awarded to Devitt & Forand and work is underway.
PHASE 2
$3,000,000
Parking lot development – including additional on site parking and potential development of new parking lot space at W.O. Mitchell School
Expansion of the Narthex & Don Bosco Room
PHASE 3
$4,000,000
Upgrade and expansion of Sanctuary
Construction of the shell for a future Chapel and Columbarium (~1,200 niches)
PHASE 4
$1,000,000
$1,700,000
Interior completion of the Chapel and Columbarium
Columbarium expansion (~1,600 additional niches)
PHASE 5
$3,000,000
(Pending Diocese Approval)
New Church Hall (main and lower floor) and Kitchen

Through the Campaign, St. Peter's expects to generate the total funding required to complete Phase 1 and Phase 2. Phases 3, 4 and 5 will be reviewed and will proceed dependent on the extent of funds raised through the Campaign and/or other financing that will support what the parish can afford.