Understanding the History and Legacy of the Indian Residential Schools as a Foundation of Reconciliation
Saturday, September 30 @ 10am in St. Peter's Parish Hall with Justice Len Marchand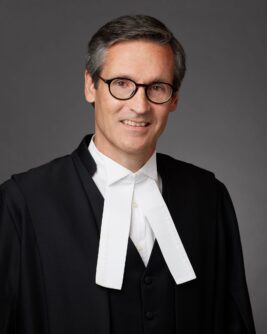 Justice Len Marchand, Jr. is Syilx and a member of the Okanagan Indian Band. He grew up in Kamloops. After finishing a B.A.Sc. in chemical engineering at UBC in 1986, he worked in the oil industry for five years. He returned to law school at UVic in 1991 and graduated in 1994. He articled and practised law at Fulton & Company LLP in Kamloops from 1994-2013. His practice focused on the liability of public authorities and he appeared before all levels of court and many administrative tribunals.
Justice Marchand has dedicated a substantial portion of his career to achieving reconciliation for many Indigenous people through, among other things, advancing civil claims for abuses suffered by residential school survivors. In 2005, he helped negotiate the Indian Residential Schools Settlement Agreement, at the time the largest class action settlement in Canadian history. He served on the Oversight Committee for the Independent Assessment Process and on the Selection Committee for the Truth and Reconciliation Commission.
Justice Marchand was appointed to the Provincial Court of British Columbia on September 5, 2013. As a Provincial Court judge, Justice Marchand had the privilege of presiding in Cknucwentn Court in Kamloops, where, with input from Elders, healing plans are developed for Indigenous offenders. Justice Marchand was appointed to the Supreme Court of British Columbia on National Indigenous People's Day, June 21, 2017. He was appointed to the British Columbia Court of Appeal on March 24, 2021.
You can also join us on ZOOM:
Zoom meeting: Topic: "Understanding the History and Legacy of the Indian Residential Schools as a Foundation of Reconciliation" with Justice Len Marchand
Time: Sep 30, 2023 10:00 AM 
Meeting ID: 303 850 5514
Dial by your location – +1 587 328 1099 Canada